Nationwide Job Placement Assistance Program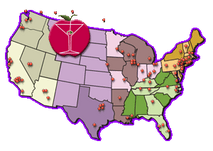 Riverside Bartending School has nearly 90 schools nationwide to help our graduates with nationwide job placement assistance. We are networked with bartending schools from San Diego, California to Bangor, Maine.
One of the great things that makes us strong is that we have connections for nationwide job placement assistance and refresher courses. Additionally, these services never expire; they are lifetime benefits! One never knows when they will have to relocate.
If a student at Riverside Bartending School needs to relocate, they need to inform the school of the relocation, and we will send a packet to the bartending school of choice. Once the school of choice receives the information (usually within a day or two) our job placement director will give the student a number to call to schedule an appointment with that school. Riverside does not let students down locally or nationwide. We cover our graduates in nearly any location.
Professional Bartending School of America
Riverside Bartending School works with many large organizations to help our students find work nationwide. For example, the Professional Bartending School of America (PBSA) is one of our strongest affiliates with 36 schools nationwide. PBSA is known for excellence in service and nationwide job placement procedures. PBSA and National Bartender Schools formed a network of schools. Our bartending schools are unsurpassed in the industry concerning nationwide job placement assistance.
No Bartending School Where You Are Moving
In the event there is no bartending school where you are moving, it's OK! The owner of Riverside Bartending School is well connected. More importantly, the owner helps graduates land jobs in very desolate places.
Last year the owner helped a young lady, Sherry, find a job in a very rural area of Up-State New York. Unbelievably, there are only two bars in the town within which Sherry lives. However, with a bit of persistence and persuasion, the owner of the bar hired Sherry. Sherry was only 19 when she graduated from Riverside. Sherry knew she was moving to New York. Surprisingly, the legal age to be a bartender in New York is only 18. Therefore, Sherry moved, and we guided her through becoming a bartender in New York.