Bartender School | Riverside Bartending School
Bartenders Earn Cash, Have Fun, Flexible Schedules, and Meet People!
Riverside Bartending School offers a friendly and helpful staff to serve the needs of our students.  Ultimately focused on teaching you how to become a Bartender.
The amount of quality, one-on-one, bartender training we provide to each student sets our Bartending School apart from other Schools.
All this considered, you will receive the best Bartending education in Southern California when you enroll in our Bartending Classes for Certification.
Bartender Training
Most notably, ninety-five percent of the time you spend in our Bartender Training Program is hands-on and behind a bar with real bar equipment, including Point of Sale Systems.
Our instructors have:
Worked in the industry for years;
Taught Bartending Courses for years; and,
They will help you reach your goal towards a Bartending Job and Career.
Riverside Bartending School facilitates students to graduate with skill and confidence. Consequently, ensuring successful entry into the world of Bartending.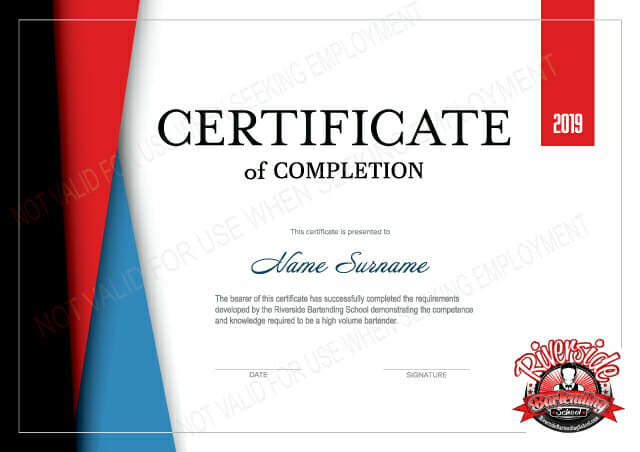 Your First Bartending Job
When you get to your first bartending job, we want you to make a good name for yourself and our Bartenders School. Furthermore, Riverside never takes shortcuts or rush you through the process. Many students graduate in under 2-weeks. However, students can take as long as needed to graduate and become a Professional Bartender. As a result, you will be prepared for a bartending job immediately upon graduation. You will receive your first bartending job shortly after graduation. Our goal is to help you become the best candidate for your desired Bartending job.
Riverside Bartending School Award!

Congratulations to the Riverside Bartending School and their staff for receiving the PBSA Quest For Excellence Award. Nate Smiley, the school director, was presented with this prestigious award at the Professional Bartending Schools of America Leadership Conference in Orlando, Florida.
Who Attends Riverside Bartending School?
Our Bartenders School has students coming from:
Rancho Cucamonga
Ontario
Fontana
Moreno Valley
Murrieta
Perris
Pomona
Upland
Yucaipa
Rialto
Bloomington
Chino
Chino Hills
Alto Loma
San Jacinto
Hemet
Beaumont
Banning
Victorville
Apple Valley
Nuevo
Sun City
Hesperia
Barstow
In addition to our unparalleled training, all of our graduates receive alcohol awareness training. This training is through the National Restaurant Association's ServSafe program.  As a result, you earn a valuable Bartending Certification required by many establishments.
Why Riverside Bartending School
First and foremost, we have been serving the Inland Empire, in the same location, since 1982, with over 10,000 Bartenders trained and certified!!! Additionally, our Bartending School only hires experienced and knowledgeable instructors. They have worked, as Bartenders, in some of the Inland Empire's best establishments. Moreover, they are committed to helping you learn the skills necessary to mix drinks everywhere from the corner bar to the Ritz Carlton.
Who Attends Riverside Bartending School
Our students come from all over the Inland Empire. Moreover, they have found Bartending Jobs in cities all over Southern California. Our graduates can be found working in establishments located in these counties:
Riverside,
San Bernardino,
San Diego,
Los Angeles, and
Orange Counties.
Most noteworthy, some of our students have excellent bartending jobs on cruise lines, in national parks, at major sports arenas, and Bartending for the Hollywood elite at private events.
Our business motto is: We teach you until you are on your 'A' game.
In other words, we want you to be fast, professional, knowledgeable, and smooth.
Our graduates get the best jobs because we do not cut corners on Bartending Certification.
Therefore, when our graduates get their first Bartending Job, they do very well. Our graduates always impress hiring managers. Additionally, this gives our Bartender School an excellent reputation.
To summarize, our students are rocking Bartenders. Before they even start their first job, they are ready to tend bar in a high-volume setting. For these reasons, Riverside Bartending School is the best in the Inland Empire. You have probably thought about being a Bartender in the past and put it off for one reason or another. Don't put it off any longer! Lastly, give us a call at 951-371-6342 and let us help you get started in your new full or part-time Bartending Career!