Choosing You Local Bartending School?
Choosing your local bartending school is a critical decision. Often, we reflect, and we wish we would have made a different decision.
If you are asking yourself: what's the closest bartending school near me or where is the closest bartending school. You are not alone. The term bartending school near me is one of the most frequent searches on the Internet for people looking for bartending schools. Let's dive into the thought processes of the consumer.
Convenience of a Local Bartending School is a Huge Factor
Hence the very often used term "bartending school near me" when searching for bartending schools in your area. What if someone were to say "Education is the key to your success" or "The more effort you put into something, the bigger the reward"? The last statements may seem cliche, but there is some truth to these claims.
Rather than finding the closest bartending school, look for the quality bartending school. Within reason, distance is not an issue. For example, driving 20 miles to go to school rather than 8 miles. Not convenient but ensuring success by driving further is enticing.
What's So Special About Riverside Bartending School
As a reader, you may be asking what's so special about Riverside Bartending School.
We provide our students with a quality education.
When Riverside quotes a price to customers before they come into the school, it is always "all-inclusive."
The all-inclusive price also includes everything you need to know to be a bartender at a high-volume bar:
Local Bartending School Comparison
The Other Bartending School Was Closer To Me
On average, Riverside Bartending School hears "The other bartending school was closer" about 5 or 6 times a month. People enroll in a local bartending school sometimes because it is closer to their home. A handful of those people come to our school asking if we can help them find a job. The owner and the staff at Riverside feel horrible when this happens.
Unfortunately, if the person in question wants a bartending job, they must pay for our school and train with us. It is imperative that graduates are well trained. We have a reputation with more than 400 restaurants and bars. They depend on our graduates to know and run the bar in a high-volume atmosphere.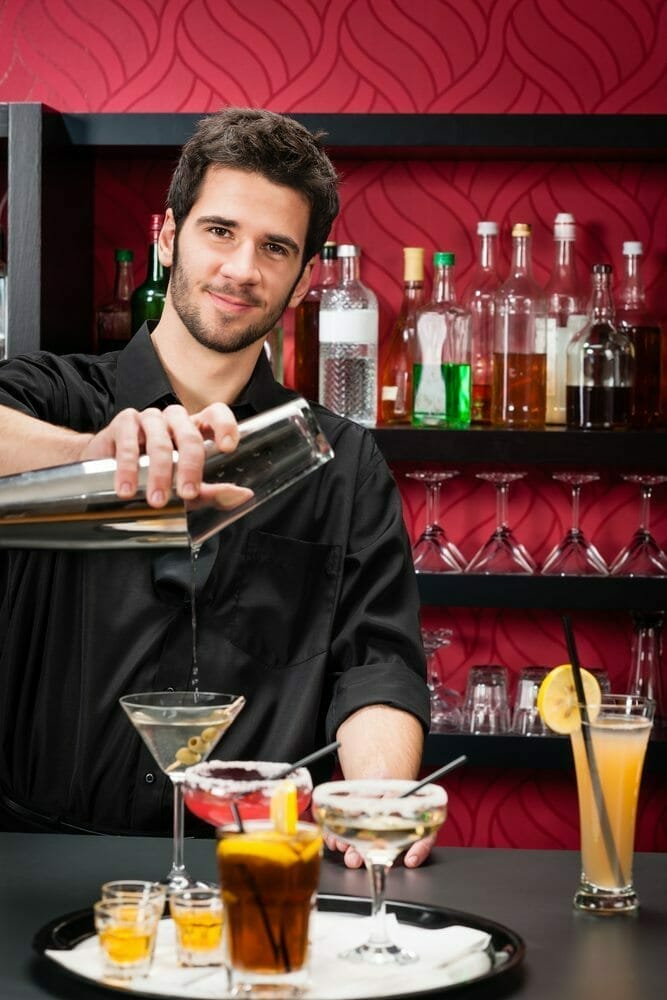 Come On; It's Just Bartending School
We have heard many people say, "Come on; it's just bartending school, " but we politely disagree. Comparatively, owners and managers are seeking bartenders who know their profession. In short, a well-trained bartender is the most profitable employee on the floor in the front of the house (the portion of the bar or restaurant serving the public). "Come on; it's just bartending" is not going to get you hired.
Conversely, learning to OWN that bar with excellent skills is the fastest way to great success. Bartending is a business, and owners and managers are in business to make a profit. Without profit comes the "Out of Business" sign on the front door. Bar owners want and need prepared bartenders, not pretenders.
To summarize, a bartender has the responsibility to be fast in times of a rush. Moreover, they must up-sell alcohol, suggestive sell alcohol, and be creative to increase business. Riverside Bartending School will provide all the tools necessary to perform these duties. Furthermore, we offer unsurpassed job placement and assistance, which guarantees you a job.
Online registration for any vocational school is a crapshoot. Riverside Bartending School has a theory. The theory of online enrollment is relatively simple. Why would I want to part with my hard-earned money without looking at the school and meeting the staff?
Riverside is open per the hours listed on this website, and people are always welcome to come and visit with us. Most people have intuition. We invite anyone that wants to become a successful/professional bartender to come over to the school and take a look. If you feel right about the school, you may enroll anytime our school is open. The open-door policy is the best policy. Do the research, ask questions, and a future of success will follow.
A Few Quotes from Intelligent People