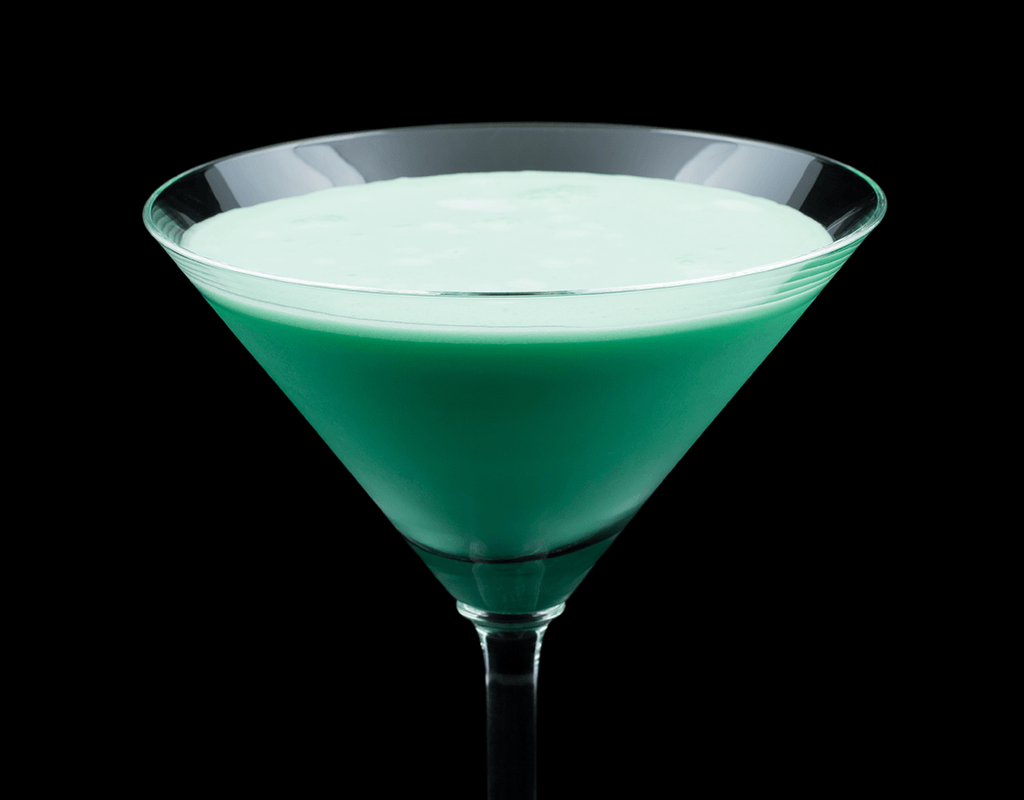 Grasshopper Martini
Green Drinks To Celebrate St. Patrick's Day
The Grasshopper Martini a mint chocolate flavored green dessert martini. You can celebrate St. Patrick's Day with this low-proof classic martini that is heavy on flavor and light on alcohol.


The Grasshopper is a Classic Mint Chocolate Martini That You Can Customize
Feel free to blend the Grasshopper to your desire. If you are feeling a bit more chocolate add a little more creme de cacao. Likewise, increase the creme de menthe if you would like a bit more mint.
Prep Time

2 min

Total Time

2 min

Yield

1 Grasshopper Martini

Serving Size

1.5 oz

Calories

179 cal
To Make a Grasshopper Martini Grab the Following
3/4 ounce Crème de Menthe

3/4 ounce Crème de Cacao

3/4 ounce Light Cream (Half & Half)

Mixing the Grasshopper Martini
1
Add ice to your steel cocktail shaker.
Add 3/4 oz of Hiram Walker® crème de menthe to the shaker.
Then pour in 3/4 oz the Hiram Walker® crème de cacao into the shaker.
Last, add the 3/4 oz of light creme to the mix. It is easiest if you use half & half. We recommend Land O Lakes® Mini Moo's®.
The Grasshopper Martini is a classic after-dinner cocktail that will delight your taste buds with a mint chocolate flavor that is light on the alcohol. Phillip Guichet invented this cocktail in 1918 at Tujague's Restaurant located in New Orleans' French Quarter.
St. Patrick's Day is a time for green drinks, and the Grasshopper Martini gets its name because it is green!
So, maybe you can skip the meal and go straight to the dessert, enjoy your Grasshopper, and Happy St. Patrick's Day!
Learn How to Make More Than Just This Classic Martini
Are you interested in learning how to create more drinks? To find more drink recipes, follow this link: for more top-shelf drink recipes.
We will provide you with one-on-one bartending training to teach you how to mix 200 of the most popular cocktails.  With this knowledge and your new high volume bartending skills, you will be ready for a job as a bartender.
We are the top bartending school in Southern California's Inland Empire. You should check out our bartending school requirements and contact us today for more information.