Grand Marnier® Cordon Rouge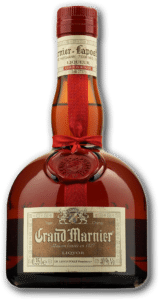 A Wonderful Liqueur
Grand Marnier® Cordon Rouge, created in 1880 by Alexandre Marnier-Lapostolle, is a delicious orange-flavored liqueur. This delightful concoction is a complex combination of Cognac, the essence of bitter oranges, and sugar. These ingredients provide the aficionado's palate with joy and a reason to use Grand Marnier®  as an upgrade for Triple Sec.
Additionally, because the "bitter orange" taste goes well in margaritas, this liqueur is usually the main ingredient in a Cadillac Margarita.
Enjoying Grand Marnier® Cordon Rouge
There are many ways one may enjoy this wonderful libation. Many people consume Grand Marnier® Cordon Rouge "neat" (room temperature).
We polled recent graduates from Riverside Bartending School, and they seemed to favor it shaken. Consequently, we often suggest that this liqueur served shaken. Perfectly shaken, the process adds about 23% ice-cold water to the mix. Therefore much of the "80 proof bite" is reduced.
How to Make a Cadillac Margarita Using Grand Marnier®
Cadillac Margarita
File Under:
Dessert, Drinks
Keyword:
Cadillac Margarita, Grand Marnier, Margarita, Tequila, Top Shelf
Ingredients
2

oz

Tequila

Top Shelf

1.5

oz

Fresh Squeezed Lime Juice

Approx 2 Limes

1

oz

Grand Marnier®

1.5

cups

Ice Cubes

Lime Slice

Coarse Kosher Salt
Instructions
Run the lime slice around the rim of a margarita glass and then press the rim into a saucer of coarse kosher salt to create the salt rim.


Remove the ice from your ice tray, and place it in a cocktail shaker along with the other ingredients. 

Shake the mixture until condensation beads form on the outside of the shaker. 

Strain the mixture into the glass. 

Garnish with a lime wedge and serve.
Wasn't That Fun?
If you are interested in learning how to make 200 of the most popular drinks with the utmost ease and skill, thereby earning a job as a professional high volume bartender, you should check us out.
We are the top bartending school in Southern California's Inland Empire. You should contact us today for more information.